Home > Programmes > Black and white snub-nosed monkey, China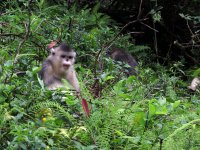 Black and white snub-nosed monkey, China
November 19, 2013
The black and white snub-nosed monkey, 滇金丝猴, was first scientifically described in 1897 by Alphonse Milnes-Edwards and dedicated to Mgr Félix Biet, a French missionary and vicar apostolic of "Thibet", based in Kangding, Sichuan. Hence, the Latin name Rhinopithecus bieti. According to Milne-Edwards (1897) 7 specimens [1] had been sent to the Natural History Museum, Paris by Jean-André Soulié, a French missionary at "Tsekou" (茨古) [2]. Specimens whose location are recorded were caught at a one day journey distance from "Atentsé" (Yunling Xian, 98.86°E, 28.29°N) and from Tsekou (98.9°E, 28.0°N).
Since then, the species was almost completely unknown until the 1990s.
The black and white snub-nosed monkey lives in one of the most extreme environments of any non human primate. It is found in 15 discrete populations totalling less than 3000 animals, in northwestern Yunnan and southeastern Tibet, between the Jinsha (Yangtze) and the Lancang (Mekong) rivers. This species is found in high-altitude evergreen forests, between 3,000 m and 4,700 m above sea level. Although the locations of remaining populations are well known, there are very likely to be as yet unsurveyed populations.
2013: Field expedition in the uppers of the Lancang (Mekong)
The departments of Chrono-environment and THéMA (UFC/CNRS) and the department of Wildlife Management and Ecosystem Health (Yunnan University of Finance and Economics), with the support of the Institut Universitaire de France have organised a field expedition to assess the habitats of the Black and White Snub Nosed Monkey in its distribution range and the feasibility of using graph theory to define landscape corridors between monkey populations. From July 8 to 18, 2013, Dr Celine Clauzel, Manon Jacquot and Pr Patrick Giraudoux joined Dr Li Li, Long YongCheng (a prominent specialist of primates in China) and students and colleagues for practical training on the software Graphab, and for taking ground control points (and jiajia mian) in monkey areas from the Tibet border at the north of the Meili xue shan to the southmost monkey group of the Yunlong Tianchi Nature Reserve.
2015: Field expedition to group #11, in the Laojun Shan
The Laojun Shan is a mountain chain in Yunnan, included in the Three Parallel Rivers area, with elevations ranging from 2,100 to 4,513 metres. The western part of the region adjoins the Lancang (upper Mekong) while the eastern part is contiguous with the Jinsha river (upper Yangtse). It is a biodiversity hotspot, and it hosts two populations of Yunnan Snub-nosed Monkey, defined as Groups #11 (Jinsichang) and #12 (Dapinzi) in Li et al. (2014).
A field expedition has been carried out there November 11-15 to assess the habitats of the group #11 population, collect field material and meet with guardians in charge of the monkey population monitoring and protection. There Prs Li Li and Zhang Hong from YUFE and Pr Patrick Giraudoux and Dr Céline Clauzel, from the Chrono-environement and LADYSS labs, respectively, met M. Zhang ZhiMing, guardian in the village of Li Zui . They where assisted by Zhang Ying Chun, Ma Cong, Li Jun for logistics.
A three day foot treck between 3200 m and 3700 m of altitude was carried out to get contact with the monkey group, from the field station of Guan Ce Zhang. After crossing kilometres of primary mountain forest on stiff slopes with patches of thick undergrowth of bamboos, the group has been able to get ear and visual contact and to collect a number of monkey faeces. Those faeces will be used by the Chrono-environment lab to evaluate the feasibility of developing non invasive methods to investigate monkey population health (genetics, microbes, diet, etc.). The good news was that, according to Zhang ZhiMing's observations, the group has increased from appx 150 to 300 since the guardian system has been created.
Dr Celine Clauzel gave a lecture on November 10, at the Yunnan University of Finance and Economics, on circuit theory and its implementation in the softwares Graphab and Circuitscape.
Further collaboration plans between YUFE, Chrono-environment and LADYSS were also discussed.
2016: Field expedition to Cizhong (Tsékou), where the holotypes were disclosed to science in the 19th Century
After the workshop Methods and research in ecohealth and conservation, a field expedition has been organized (November 8-14) to reach the area where the first specimens known-to-science of Rhinopithecus bieti were captured and sent by Jean-André Soulié. The idea was to cross the Yulong xue shan and the Baima xue shan where a large number of monkey groups are still living, in order to get a first assessment of the feasibility of research based on archives, local testimonies and more recent satellite imagery, to document habitat changes since that time.
The first step was a stop over in the Tacheng National Reserve (Group #9) to prepare Amael Dupaix and Fu Rong 2017 internship at the wildlife management and ecosystem health lab of the YUFE.
Prs Li Li, Zhang Hong, Patrick Giraudoux, Drs Emmanuel Garnier and Eve Afonso participated to this field session, with the help and support of Zhang Ying Chun, Ma Cong and Li Jun. Additional support was provided by Shi FangQing, from LiJiang, whose father and uncle lived in the areas where the catholic community having hosted Jean-André Soulié was settled.
Disappointingly and by contrast with the heartly welcome of other people of Cizhong village, the priest in charge of the catholic community denied to meet us and to give any information about local archives, if any, and the past and present of his community. We have been however more lucky with landscape assessment and, unexpectedly, disclosing in our own group other sources of informations not analysed yet.
Now, the plan is to explore the archives possibly deposited at the Missions étrangères de Paris in combination with the analysis of Shi FangQing's father personal archives and geographical information systems that might be specifically designed on this purpose.
2017: Second field expedition to Cizhong (Tsékou)
A second field expedition has been organized (April 13-18) to Tacheng then Cizhong in order:
Participants were Li Li, Patrick Giraudoux, Emmanuel Garnier, Shi FangQing, Fu Rong, Ma Cong and Li Jun
Results:
Perspectives:
Read more:
Footnotes
[1] 6 only are recorded in Rode's catalog and found in the collection nowadays
[2] Actually Jean-André Soulié's first mission was in "Bathang" (Batang County), then at Cha-pa (102.22°E, 29.90°N). Then he was sent to Tse-kou where he arrived in 1894, December 8. He left the place to "Yaregong" (YariGong Xiang, 99.364E, 29.434N), Garzê Tibetan Autonomous Prefecture, Sichuan, in 1896, July 20. During the 1905 tibetan revolt, he was arrested by lamas, tortured and shot, in the Ngarongchy valley, not far from Yaregong.