Home > News > Research Workshop, Bishkek, Kyrgyzstan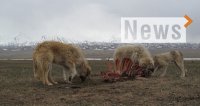 Research Workshop, Bishkek, Kyrgyzstan
2014 November, 25-26
Lab members of the GDRI EHEDE, the University of Zurich (CH) and the Kyrgyz Veterinary Research Institute organized the research Workshop: "Echinococcosis in Kyrgyzstan and the region", as one of the final meetings of the Wellcome Trust supported programme "Multi-species transmission of Echinococcus on the Tibetan Plateau and Central Asia".
The more than 50 attendees included Phil Craig, Mark Danson, Alexander Maston, Mike Rogan, Freya van Kesteren (UK), Akira Ito (Japan), Patrick Giraudoux and Francis Raoul (France), Paul Torgerson and Iskender Ziadinov (CH) and representatives of national research institutes, government authorities, and private biotechnology manufactures of China, Kazakhstan, Kyrgyzstan and its oblasts, Mongolia, Uzbekistan and the WHO.
The objective was to present, discuss and summarize activity in basic and applied research about Echinococcus sp. zoonosis epidemiology, transmission ecology and control in Kyrgyzstan and neighbouring countries of Central Asia, and to propose priorities and recommendations for research and disease control.
Resultas have been published in a special issue of the Journal of Helminthology.
Read more...
Echinococcus multilocularis transmission in Kyrgyzstan
Contacts:
P.S. Craig, University of Salford
P. Torgerson, University of Zurich