Home > Programmes > E. multilocularis transmission in Asia > Kyrgyzstan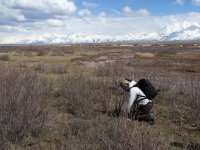 Kyrgyzstan
Large foci of transmission have been discovered in Western China since the 80's and in Central Asia (Kyrgyzstan, Kazakhstan, etc.) more recently. Human echinococcosis is increasing in Kyrgyzstan, with many new cases in the country's South. Little is known on the ecology of hosts and parasites in those areas. This programme is supported by the Wellcome Trust.
2012, May 7-23 : first field work in the Alay valley, Pamir, Kyrgyzstan, and follow up
A multidisciplinary team travelled to the Alay valley including, Mike Rogan, Mark Danson, Alex Mastin, Freya van Kesteren (Salford University, UK), Iskender Ziadinov, Bermet Mytynova (Veterinary Institute, Bishkek, Kirghizstan), Paul Torgerson (University of Zurich, CH), Eve Afonso, Nicolas Tete and Patrick Giraudoux (Chrono-environment, University of Franche-Comté, F).
The Chrono-environment department's group investigated the interactions between landscape and small mammal intermediate host communities. Small mammal communities and land cover were sampled around Sary Moghol (3000 m alt), Alay valley, at the bottom of the Lenine Peak (7134m). The aim was to provide a first assessment of basic components of the transmission system in order to analyse possible landscape effects on population dynamics and transmission (see Giraudoux et al. 2013).
Based on previous reports of human echinococcosis in the Alay valley, four communities were selected by the University of Salford team for further investigation: Sary-Mogul, Taldu-Suu, Kara-Kabak and Kashka'Suu. Within these communities, approximately 700 households were visited and around 400 dogs were registered in May 2012. Faecal samples were collected from the majority of these dogs, in order to test for the presence of Echinococcus parasites. The World Bank has subsequently began a praziquantel dosing campaign in the area, and Freya van Kesteren and Alex Mastin have revisited a selection of households within the study villages at regular intervals (October 2012, April and September 2013, and April and September 2014) in order to sample dogs and monitor their infection status.
Freya has described the baseline prevalence of canine infection in these villages, and has also described the demographics, husbandry and roaming behaviour of these dogs. She has also assessed the levels of environmental contamination with dog faeces, which are a potential risk to humans, and conducted infection surveys in a number of nearby villages. Alex has developed novel methods of diagnostic test interpretation in order to estimate the burden of canine infection before and during the control scheme, has identified risk factors for canine infection, and has investigated people's attitudes towards dogs and zoonotic diseases. It is hoped that this data will be used to develop a mathematical model of Echinococcus spp. transmission in the Alay Valley, in order to better understand the epidemiology of this parasite in these communities and optimise ongoing surveillance and control efforts.
2014, August 19-31: complementary study on the wildlife compartment: small mammal survey and fox faeces collection
Patrick Giraudoux, Dominique Rieffel (Chrono-environnement), Iskender Ziadinov (Vetsuisse Faculty, University of Zurich) and Carole Bodin (CERFE) settled for 13 days in Sary Moghul and undertake a small mammal survey based on standard trapping and line transects on grid. 48 standard traplines (3600 trap.nights) were set up and 51 animals captured. 87 faeces, most of them attributed to fox, have been collected. Furthermore, the team drove to the bottom of Lenine Peak through the autumn/spring pastures to reach and visit the summer pastures and assess habitats and small mammal distribution there.
2014, November 25-26: Research Workshop: Echinococcosis in Kyrgyzstan and the Region, Bishkek


Read More...
Journal of Helminthology special issue
Contacts:
Phil S. Craig
Cestod Zoonoses Research group
University of Salford, UK
Patrick Giraudoux
Chrono-environnement, University of Franche-Comté, France