Home > Presentation > History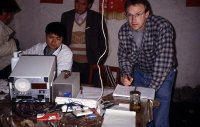 History
Collaborations and funding
Our collaboration as ecologists with Chinese medical universities began in 1994 in the framework of the European programme of the DGXII "Human cystic and alveolar echinococcosis in northwest China: community screening, patient treatment/follow-up and transmission studies". This programme was initiated and coordinated by Pr. Phil S. Craig, with the support of Pr. Dominique Angèle Vuitton for the medical aspects. It involved University of Franche-Comté, University of Salford, UK, Xinjiang Medical University, Urumqi, and Lanzhou Medical University, Gansu, China.
After some relay contracts from 1998 to 2001 (Programme de recherche avancée franco-chinois, Europe, etc.) led by Pr. Patrick Giraudoux, research was supported by the US National Institutes of Health (Fogarty International Centre) from 2001 to 2008 as part of their Ecology of Infectious Disease initiative, on a programme entitled "Ecosystem Disturbance and Multiscale Transmission of a Zoonotic Wildlife Pathogen" co-coordinated by Pr. Phil S. Craig and Pr. Patrick Giraudoux. This permitted us to enlarge partnership to Ningxia Medical University, Sichuan Centre for Disease Control, East China Normal University in Shanghai, the Institute of Parasitology of Zurich University, Switzerland, the Institute of Parasitology of Hohenheim University, Germany, and Asahikawa Medical University, Japan.
From 2009 to 2013 research on Taenisases/Cysticercosis was coordinated by late Pr. Akira Ito and supported by the Japanese Society for the Promotion of Science through collaboration with Asahikawa Medical University and the Primate Research Institute of the University of Kyoto, Japan.
Further programmes were supported by the Wellcome trust '"Multi-species transmission of Echinococcus on the Tibetan Plateau" , the Australian National Health and Medical Research Council "Does environmental change drive the spatiotemporal transmission dynamics of Echinococcus spp. in Ningxia, China?", until 2015.
After a one-year sabbatical at the University of Franche-Comté, Pr Li Li and Pr. Patrick Giraudoux founded the Laboratory of Wildlife Management and Ecosystem Health in 2012 at the Yunnan University of Finance and Economics. This added a biological conservation and GIS component to the GDRI, focusing on the ecology of the Yunnan snub-nosed monkey and Asian wild elephant. The GDRI has been also labelled and supported by the CNRS from 2013 to 2020.
Since 2023, with the appointment of Pr. Li Li and the support of Dr. Eve Afonso and Pr. Patrick Giraudoux, the laboratory of Wildlife Management and Ecosystem Health has moved to Leshan Normal University in Sichuan. Research has been expanded to include the Tibetan macaque and the issue of health risks associated with wildlife tourism.
Training
Since 1994, many young Chinese medical students have got a doctorate at University of Franche-Comté (France), or a PhD at University of Salford (U.K.), at Queensland University in Brisbane (Australia) or at Asahikawa Medical University (Japan), in fields related to eco-epidemiology: Zhou HongXia (now Professor of Epidemiology at Guangxi Medical University, in Nanning, Guangxi), Wang Qian (Head of the Cestode Zoonosis group at the Sichuan CDC), Yang YuRong (Professor of Parasitology at Ningxia Medical University), Wen Hao (director of the first Teaching Hospital of Xinjiang Medical University), Wang YunHai (professor at Xinjiang Medical university), Li TiaoYing (research-professor at Sichuan CDC), Wulamu Mamuti (professor at Xinjiang Medical University), Xiao Ning (Deputy Director at National Institute of Parasitic Diseases, Chinese CDC, Shanghai), and Feng XiaoHui (research engineer at Xinjiang Medical University, 1st Teaching Hospital), etc..
Doctorate/PhD were also obtained by Western young researchers: among others David Pleydell (currently Chargé de recherche at the UMR INRAE-CIRAD: contrôle des maladies animales exotiques émergentes, Montpellier, France), Christine Budke (associate-professor of epidemiology at Texas A&M University, USA), Amélie Vaniscotte (LPO consultant in ecology, Besançon, France), Christopher Marston (UK Centre for Ecology & Hydrology, Lancaster), etc.