Home > News > XXVII World Congress of Echinococcosis, Algiers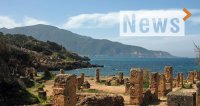 XXVII World Congress of Echinococcosis, Algiers
October 9, 2017
Plenary session 2:
Ecohealth/One health concepts and echinococcoses:
examples of cross-sectorial approaches for research and Echinococcus control
| Title | Presenter | Country |
| --- | --- | --- |
| Key-note. Ecohealth / One health concepts and echinococcosis: an introduction | GIRAUDOUX Patrick | France/China |
| Integration of animal health and public health surveillance sources to exhaustively inform the risk of echinococcosis in Rio Negro, Argentina | AREZO Marcos (presented by DEL RIO VILAS Victor, UK) | Argentina |
| Are the vegetables sold in Tunisian markets contamined by Echinococcus granulosus eggs? | M'RAD Selim | Tunisia |
| Interlinks between wildlife and domestic cycles of Echinococcus spp in Kenya | KAGENDO Dorothy | Kenya |
| 27 year monitoring of an alveolar echinococcosis hotspot in south-Gansu | GIRAUDOUX Patrick | France/China |
| Added value of social sciences in setting up a control program against hydatidosis in Morocco | SAADI A | Morocco |
A large audience attended with many positive feedbacks post-session. Dr. Saadi was awarded a special prize for the integration of a social approach in control program.
The congress conclusive remarks acknowledged that the number of one health/ecohealth study cases were actually seldom in echinococcosis research, hence in the session.
Each discipline and sector (health, agriculture, ecology, social sciences, etc.) has difficulties in thinking global and carrying out synergistic approach taking good account of the many constraints and subsequent trade off necessary to hit management targets efficiently in multi-functional eco-systems, for instance:
impact of host management and parasite control on non-health issues such as agriculture, biodiversity, etc. (and conversely)
long-term sustainability and side consequences of control measures,
host/parasite control, ethics and social acceptance
etc.
The lack of financial support for such research (often long-term and multidisciplinary), the discomfort of being out of the mainstream of disciplinary routines, and the lack of awareness of the community about those issues and their environmental, social and economical importance have been pinpointed. This might explain the limited number of researchers daring to take what can be a life-lasting challenge.
Hence, a call for more to come in terms of one health/ecohealth and systems approach for the next congress in Peru in 2019.
Contacts: