Home > News > GDRI EHEDE @ the Zone atelier/LTSER Hwange…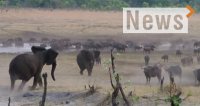 GDRI EHEDE @ the Zone atelier/LTSER Hwange…
October 22, 2017
The Zone atelier/LTESR Hwange (ZAH), is devoted to long-term multi-disciplinary research about the dynamics of a savanna ecosystem, the Hwange National Park and its periphery (≈15000 km²), at the western border of Zimbabwe. In collaboration with Hervé Fritz, the director of the ZAH, the GDRI EHEDE scheduled workshops and meetings there, at the CNRS/CIRAD research station, from October 16 to 21.
The objectives were:
Unfortunately, last minute complications prevented the Chinese delegation to obtain a visa, and Hervé Fritz, director of the Zone atelier, could not obtain clearance from the CNRS defense officer for attending the meeting on time. Patrick Giraudoux was alone able to travel to the Zone atelier Hwange. There, using a contact list, advised by Hervé Fritz and Brian and Marleen Sabeta (Sable Sands lodge), he could meet people and prospect collaboration opportunities, kindly assisted for logistics by M. Mpala Zakhele, manager of the research station.


Briefly:
More to come in the next few weeks/months, hopefully…
Contact:
Patrick Giraudoux
See also: