Home > News > Thinking about the pandemics...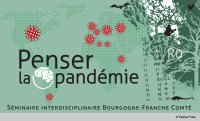 Thinking about the pandemics...
6 mai 2020
Several research teams from the Bourgogne Franche-Comté universities have gathered to organize an online interdisciplinary seminar to reflect upon the current pandemic. Each session will also be available on a dedicated youtube channel.
The pandemic as we know it in 2020 is a total phenomenon: none of our sciences can take the measure of it on its own. Its many dimensions require all our various sciences, from the ecological context of propagation to the epidemiology of human populations and the research of a cure, from organizational and public health challenges to the assessment of social and psychological effects, for instance of massive confinement of populations, up to political, ecological, economical, informational and ethical stakes of the world as it is now. Viruses cross the boundaries of sciences, whether social, medical or of nature. They bring societies back into the socio-ecological network through which they diffuse. The new world this pandemic is bringing out will need a deeper integration of our sciences, require our capacity to frame common questions across disciplines.
Those seminars (in French) are a platform to help experts from these various sciences and disciplines create a common ground for action. All sessions are broadcasted online. The programme is here : https://mshe.univ-fcomte.fr/la-mshe/actualites/975-penser-la-pandemie.
Write to the contacts to participate live.
Contacts: